A new 20-story, development allocated in the heart of Sandton, luxury apartment building, Acsiopolis, kicked off development in 2015. Property group Acsion have invested R 1.2 billion in this project.
A one hector size of land which of 70,000 square meters are divided into 4 sections. Approximately 35,000 square metres will be used for 'executive apartments', 26,000 square metres of space will be allocated for short-term rentals, 5,000 square metres will be used for retail purposes and a further 1,000 square metres will go towards office space.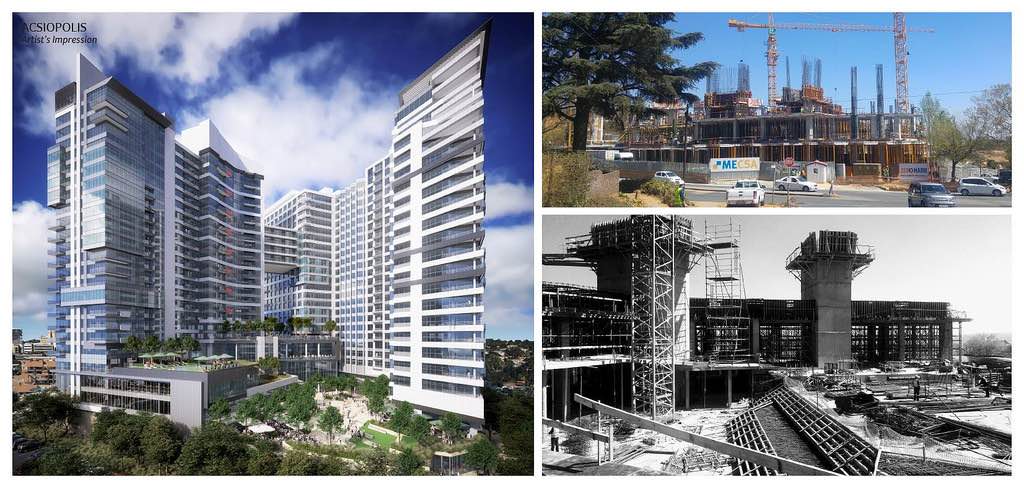 A growing demand for apartment properties enabling a highly convenient 'live, work and play' lifestyle, inspired the development of this building, along with the café street lifestyle and commercial opportunities offered within the greater Sandton area.
By the magnitude of such a project energy efficiency is of course the first thought that comes to mind. In accordance to SANS 204:2011 energy efficiency in building regulation, energy efficient products such as Thermowise products has been carefully selected to offer the most efficient, cost saving, yet luxurious upmarket lifestyle.
With the project slowly progressing according to plan, Thermowise came on board this project in 2017 responsible for the complete building plumbing and drainage, stormwater drainage and hot water plantrooms. A total of eleven 7500L hot water storage vessels, eight 9000L hot water storage vessels, eleven TKRS-800E/SN2-V – 80kW and eight TKRS-1250/SN2-V / 125kW air to water recirculating 60°C heat pumps will form part of supplying the residents and tenants occupying this building with sufficient hot water. Furthermore a total of six differently sized cold water sectional tanks dedicated to fire water supply and domestic water supply will also form part of the everyday water needs. A selection of Grundfos circulation, booster, ground water, lift sump and transfer pumps have been installed to successfully ensure water circulation throughout the building. All vessels and pipework between the vessels and heat pumps will be insulated with Galvanised steel cladding to ensure minimum heat loss contributing towards electricity savings.
The project is well on its way and our Thermowise team has executed a 70% on project completion to date and with an expected completion date set to be January 2019 installation teams are confident that the project will soon be completed.